We regret that due to the technical limitations of our site, we are unable to offer eBooks or Audio Downloads to customers outside of the UK.
For further details please read our eBooks help.
Blog
10 Things You Need to Know about Diana Gabaldon
With the eighth in her enormously popular Outlander series published today, Richard Lee helps us catch up on George R. R. Martin's favourite breakfast companion - Diana Gabaldon.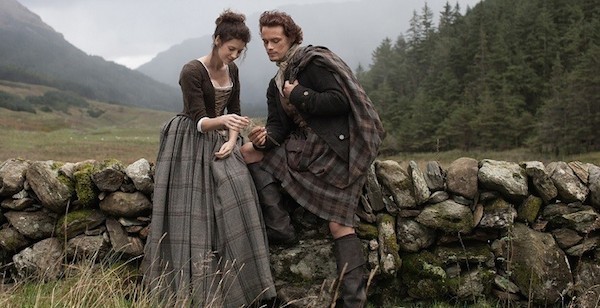 It is impossible to give even an outline of Written in My Own Heart's Blood (eighth in Diana Gabaldon's 25 million-selling Outlander series) without giving massive spoilers about the earlier books. It would be like reading the back cover of A Dance With Dragons to those just beginning A Game of Thrones. Indeed, comparisons with A Game of Thrones are not lightly made. Diana Gabaldon and George R. R. Martin have taken to breakfasting together once a month. They meet because Gabaldon's first Outlander novel is just coming to the small screen in a lavish 16 episode Starz adaptation. Like Martin, she is about to see her iconic and fan-beloved works reimagined for a new medium. Like Martin, she will have to deal with the media spotlight, the furore of interest.
So, no spoilers, but if you are new to the Outlander phenomenon, here are the essentials.
1. Time Travel. The first book in the Outlander series (published as Cross Stitch in the UK) drew part of its inspiration from an episode of Doctor Who, during the Patrick Troughton incarnation. Thereby Outlander is partly an historical novel of 18th century Scotland, but has also a modern, time-travelling perspective on this period.
2. The Shock of the Past. Related to the above, but a step further: Gabaldon from the outset wants to go beyond an modern observer's view of the past. Her time-traveller protagonist, Claire, is viscerally there. Outlander is like a pioneer novel, or a novel of exploration: Claire feels the culture-clash in every way, and draws the reader to experience it too.
3. The Romance of the Highlander. Since Walter Scott's Waverley, the Highlander has been an iconic and central figure in historical fiction. Outlander deploys the full romance of this. It is not just kilts, but physicality, landscape, language and melancholy. The romance of the Highlander comes pre-packaged with a sense of doom that their world is passing – as poignant, in its way, as The Last of the Mohicans.
4. Sexy. No other way to put it: the Outlander books are sexy. The casting of the lead male, Jamie, was the single most important factor for fans. When asked on a Starz panel about her readership, Diana Gabaldon said the strongest demographic were those identifying with – and wanting to be – Claire – especially because of her relationship with Jamie: 'they sort of want to lick him.'
5. Feisty. A besetting problem for historical fiction is that readers want their heroines educated, liberated and opinionated – and this is often anachronistic in an historical setting. Because Claire is a modern woman travelling in time she can have these modern views without compromising the verisimilitudes of the historical setting.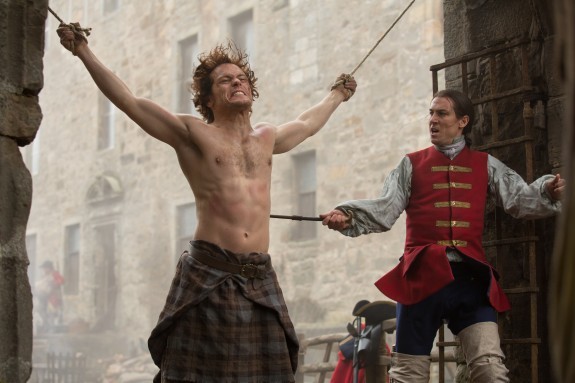 6. Pivotal History. When Claire arrives in the past she is in an apparently obscure locale, at an insignificant date, and meets no-one much known to the history books. The Outlander series so far spans the years from 1743 to 1778. Again I will refrain from spoilers, but there were world-changing events over this period.
7. Politics. Related to point 6 above, the politics of this period of history are very much alive today. The image of the Redcoat and the Highlander provokes an emotional response before a word is written; the image of a Redcoat in frontier country perhaps even more so. These are historical novels, but their history is entangled with contemporary issues, and particularly with emotions of identity.
8. Fans. Diana Gabaldon was very early at ease with computer world of fandom. She posted early pre-published episodes of her first novel on a listserv group. When the book was published, fans quickly communicated with Diana through similar lists. Now, with Facebook and Twitter, thousands of fans are in touch with Diana daily – and she has remained consistently warm, and individual in her response.
9. Starz TV show. The sixteen-part Outlander, based on book one of the series (Cross-Stitch), premieres on 9th August in the US. It is produced by Ronald D. Moore, who is known for his work on Star Trek and Battlestar Galactica – two other "pre-loved" and fan-rich series. He promises a "faithful" rendering of the books and has consistently consulted with Diana Gabaldon throughout production and shooting.
10. Politics again. There is no show-date yet for a UK screening of Outlander. Are the themes just too "Mel Gibson" for the English - Braveheart meets The Patriot? Or is the upcoming Scottish independence referendum a factor? Who knows what power history, or historical fiction, might have over this event in contemporary politics.
The Outlander series, in order, are:
Cross Stitch (called Outlander in the rest of the world)
Dragonfly in Amber
Voyager
Drums of Autumn
The Fiery Cross
A Breath of Snow and Ashes
An Echo in the Bone
Written in My Own Heart's Blood
Related books by Diana Gabaldon – set in the same time frame, but not featuring Claire or the time-slip narrative – are the Lord John Grey series of historical crime mysteries: Lord John and the Private Matter; Lord John and the Brotherhood of the Blade; The Scottish Prisoner; Lord John and the Hand of Devils (novellas).
Related books