We regret that due to the technical limitations of our site, we are unable to offer eBooks or Audio Downloads to customers outside of the UK.
For further details please read our eBooks help.
Blog
007 Must read spy novels
Matthew Dunn, author of the Spycatcher series, chooses his top double-0 seven essential spy novels...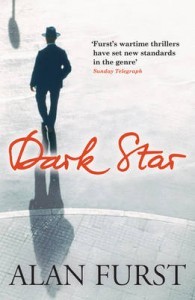 001: Dark Star, Alan Furst
With World War 2 looming, André Szara, a foreign correspondent for Pravda, is recruited by Russia's NKVD intelligence service and given covert training to enable him to spy on the chaos and shifting loyalties that have permeated the shadowy secret world of Europe.  Recognizing his talents, the NKVD posts him to Paris where he recruits a crucial Berlin-based agent.  But as Szara's star rises, he desperately attempts to cling on to his humanity and compassion for others.
Though Dark Star is part of Furst's Night Soldiers series, it can be read as a standalone novel and is a perfect example of what a historical spy novel should be. Beautifully written, with a rich historical landscape, superb and believable characterization, accurate spy tradecraft, and a moral compass that is constantly tested, Dark Star is a tour de force wartime espionage novel.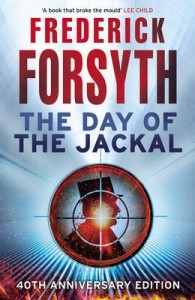 002: The Day of the Jackal, Frederick Forsyth
The Jackal, the codename for a top-level English assassin, is tasked by high ranking French military rebels to assassinate France's President de Gaulle. The objective is deemed near impossible because in the 1960s no premier had greater protection that de Gaulle. Unperturbed, The Jackal constructs a brilliant plan that culminates in him putting the crosshairs of his sniper rifle onto the head of his target, despite the fact that every European law enforcement and security service agency had been hunting him prior to that moment.
Though it is debatable whether The Day Of The Jackal is an espionage novel, I've included it in my list because it is one of the first novels to show with uncanny accuracy how top secret intelligence agencies in Europe can cooperate in a manhunt. Forsyth, a former Reuters journalist, wrote the book as if he was reporting on the assassination attempt from close proximity to The Jackal and his pursuers. As a result, don't expect a heavy dose of soul searching characterization. Do expect to read the equivalent of a chess game played out by masters.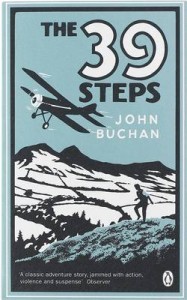 003: The Thirty Nine Steps, John Buchan

World War 1 is inevitable. Richard Hannay, a Scotsman who'd recently returned to London from Rhodesia, is confronted by an American spy who says he has information about a German spy ring that wishes to spark war by killing the Greek premier, plus is trying to steal British plans about how it will engage in war. A few days later, Hannay finds the American murdered in his apartment and flees, fearing British authorities will blame him for the death. Pursued across the UK by police and spies from both sides, Hannay learns that the German spy ring is associated with something called "The Thirty Nine Steps". He realizes that he must understand what that means in order to not only clear his name but also avert a national catastrophe.
Perhaps the grand daddy of all thoroughbred spy novels, The Thirty Nine Steps paved the way for subsequent manhunt and espionage stories. Arguably, CIA operative Jason Bourne wouldn't be on the run while trying to learn about Project Treadstone, had Hannay not been doing similar decades earlier. On face value, the book is a Boys' Own romp though the wilds of Scotland and elsewhere, with dastardly plain clothed Huns on Hannay's heels. But it is so much more than that. The book is a fear-driven intake of breath when the dying embers of colonial Britain realized its pipe and slippers retirement from the world's stage would have to wait in favor of a futile attempt to avert subsequent mass slaughter in the battlefields of Europe.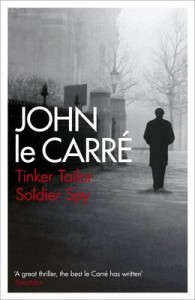 004: Tinker, Tailor, Soldier, Spy, John le Carré
MI6, aka The Circus, has a Soviet mole sitting at the top table of the organization. Retired MI6 officer George Smiley is tasked to unmask the traitor and in doing so thwart his arch nemesis, KGB spymaster Karla, who is running the mole. There are only four possible suspects and Smiley assigns them each a codename that combined make the title of the novel. Few in MI6 want to help Smiley. Fewer still believe his theory that not only is there a mole in British Intelligence, but that the mole has been stealing the "crown jewels" of Western secrets.
Writing at the peak of his game, it shows that le Carré was an MI6 officer before putting pen to paper. It also shows that his espionage experience took place in the slow burn, tactically nuanced, Cold War era. The novel is as far removed as can be from the flash bang paramilitary activities that became a more prevalent modus operandi among Western intelligence agencies after the collapse of the USSR and the subsequent rise of terrorism. Pervasive fear courses through le Carré's novel; but it rarely translates into violence. It makes for an intelligent and dark read.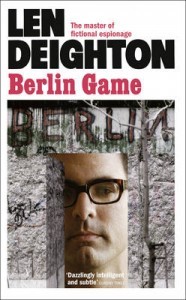 005: Berlin Game, Len Deighton
Bernard Sampson is a middle ranking MI6 officer who previously worked in the field but is now confined to a desk job in London. The sardonic veteran believes he has to all intents and purposes hung up his cloak and dagger, but is then thrust back into the field when his best agent – codename Brahms Four, an East Germany-based top provider of intelligence – wants to defect but will only deal with Sampson. As Sampson tries to untangle a web of lies and deception, it becomes clear to him that Brahms Four and his fellow network of East German agents are being sold out by a traitor in MI6.
While the plot of Berlin Game inevitably prompts comparisons to Tinker, Tailor, Soldier, Spy, the two novels have very different strengths. Le Carré's book focuses on the shadowy labyrinths within the minds of spies; whereas Deighton creates those labyrinths within the cities of his tale. Berlin and London become impossible mazes, where dead ends and misdirection confound our protagonist and create an atmosphere of malice and intelligent deceit.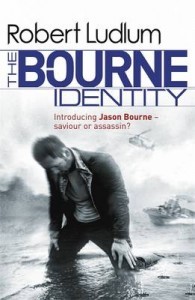 006: The Bourne Identity, Robert Ludlum

Jason Bourne is discovered clinging to debris in the Mediterranean Sea by fisherman. They rescue him but can't get any sense out of him because he's suffering partial amnesia that isn't alleviated by confusing mental flashbacks. The only clue to his former life is a film negative found embedded in his hip containing details of a bank account in Zurich. In an attempt to discover who he is, Bourne heads to Switzerland and Paris but is attacked by unknown assailants. Bourne deduces that his attackers work for "Carlos", the world's most dangerous terrorist, and he decides to hunt Carlos down.  But along the way Bourne discovers that nothing is what it seems. Bourne is not his real name. He is a top assassin. And before he was discovered in the Med, he was tasked by the CIA to enact mission Treadstone Seventy-One: a mission that had one purpose – kill Carlos.
Though it's one of the best American spy novels of all time, it's hard to think of Jason Bourne without thinking about the excellent movie adaptation of the book. But it's well worth the effort to go back to the source of inspiration of that movie and learn about a Bourne who in Ludlum's literature has far more nuance and ambiguity to him; if not a killer music score to accompany his on screen portrayal! Bourne is a highly trained killing machine who doesn't know who he is or what he's capable of. That hook might sound clichéd now, but at the time it was unprecedented and brilliant.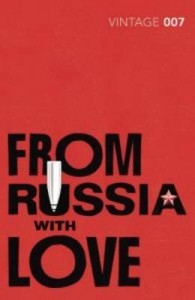 007: From Russia With Love, Ian Fleming
The fifth novel in Ian Fleming's James Bond series finds the most famous spy of all time being targeted for assassination by SMERSH, a ruthless Soviet counterintelligence death squad. SMERSH hopes Bond's death will produce a major sex scandal, leave his reputation in tatters, and destroy the credibility of his employer MI6. To set the bait, SMERSH deploys a beautiful Soviet cipher clerk called Tatiana Romanova to entrap Bond with her beauty and possession of a highly sought after KGB decoding device. In tandem, it unleashes Red Grant, a psychopathic executioner, to kill Bond when he's flushed out of the shadows.
007 on my list had to be 007. If you want fifty shades of moral ambiguity grey amid the lethal world of espionage, please check out my above recommended reading list. If instead you want big diamond-encrusted breasts, bang for your buck action and dialogue, biceps of steel, a Bahamas with frog suited spearmen protecting a subterranean fortress, Baccarat card games played with a pistol pointing at your opponent, and scorching female Reds under the bed with poison stilettos, then Bond's your man. In the words of Carly Simon's theme song for the movie of From Russia With Love, "Nobody Does It Better".
Matthew Dunn, for Waterstones.com/blog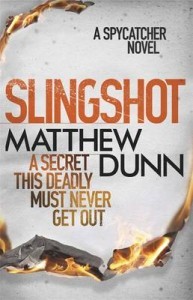 You can buy Slingshot online at Waterstones.com (http://bit.ly/N0zIuQ) or download it in ePub format (http://bit.ly/1cIDJR6)