We use cookies to give you the best possible experience on our site. By continuing to use the site you agree to our use of cookies. Find out more.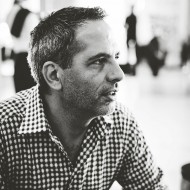 Yotam Ottolenghi
Co-founder of the Ottolenghi restaurant chain, and the author of Plenty...
14/12/1968 -
Yotam Ottolenghi biography and information
Yotam Ottolenghi was born in Jerusalem. At the age of 30 Yotam come to London in 1998 to study cookery at the Cordon Bleu. Prior to that, whilst still living in his native Israel, he was pursuing a career in completely different spheres - academia and journalism.
He started off as an assistant at the pastry department at The Capital restaurant in Knightsbridge (which left a few mental blemishes but was, supposedly, a spirit building experience), and then moved on to become a pastry chef at the Kensington Place group of restaurants, headed by Rowley Leigh.
His next stop was the famous Baker and Spice shop in Chelsea, where he eventually became the head pastry chef and gained some of his most valuable professional experience. In 2002, he teamed with Noam Bar, Sami Tamimi and Jim Webb to set up Ottolenghi. This was an instant success.
Yotam writes a hugely popular weekly column in The Guardian's Saturday magazine.
Books
Ottolenghi: The Cookbook (2008) +
Plenty (2010) V
Jerusalem (2012) +
Plenty More (2014) V
+ - co-authored by Sami Tamimi
V - Vegetarian
Similar authors to Yotam Ottolenghi
Anna Jones, Sabrina Ghayour, Ella Woodward and Jasmine Hemsley & Melissa Hemsley,
Books by Yotam Ottolenghi
We're talking about...
Posted on 3rd Feb, 2013
In a new series, Bea Carvalho from our non-fiction buying team cooks her way through some of her favourite recipe books to test out some of their recipes, and let you know what they're really like to cook from. This week, she is looking at Jerusalem by Yotam Ottolenghi and Sami Tamimi.