We use cookies to give you the best possible experience on our site. By continuing to use the site you agree to our use of cookies. Find out more.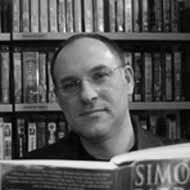 Simon Scarrow
"A storyteller, a good one, mind you, produces a spell that binds his audience into sharing another world." - Simon Scarrow, When the Eagle Hunts
Simon Scarrow biography and information
Simon Scarrow was born in Nigeria in 1962. He completed a Masters degree at the University of East Anglia before becoming a teacher in Norfolk. His lifelong fascination with history was fuelled by the historical fiction of Bernard Cornwell, Patrick O' Brian and C. S. Forester. Now, he tells the story of his greatest heroes.
He has become one of our most successful and important historical fiction writers with several bestselling series to his name, most notably the Cato series set in 1st Century Roman Europe.
The Revolution series is set during the Napoleonic wars and he has also penned a Gladiator series for younger readers.
Simon is the older brother of Alex Scarrow, author of the incredibly popular TimeRiders series.
Similar authors to Simon Scarrow