We use cookies to give you the best possible experience on our site. By continuing to use the site you agree to our use of cookies. Find out more.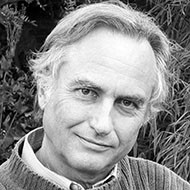 Richard Dawkins
Scientist and author who first came to prominence with the publication of The Selfish Gene.
26/03/1941 -
Richard Dawkins biography and information
Richard Dawkins is an English scientist and author who has contributed hugely to the study of evolution. He is a prominent critic of organised religion and the idea that mankind was created by God. He argues that evolutionary theory is the only possible explanation for the origins of the human race.
Dawkins has written several popular science books, most famously The God Delusion in 2006, and regularly appears on both television and radio. He is married to Doctor Who actress Lalla Ward, whom he met through their mutual friendship with Douglas Adams.
Book and writing awards
1987 Los Angeles Times Current Interest Award (The Blind Watchmaker), 1989 Zoological Society of London Silver Medal, 1990 Michael Faraday prize, 2006 Lewis Thomas Prize, 2007 Galaxy British Book Awards Author of the Year.
Similar authors to Richard Dawkins