We use cookies to give you the best possible experience on our site. By continuing to use the site you agree to our use of cookies. Find out more.
Navigation
Search
Books

Dinosaurs Love Underpands

Claire Freedman, Ben Cort

Deep Sea Monsters

Igloo

Dinosaurs Love Underpands

Claire Freedman, Ben Cort

Deep Sea Monsters

Igloo
We regret that due to the technical limitations of our site, we are unable to offer eBooks or Audio Downloads to customers outside of the UK.
For further details please read our eBooks help.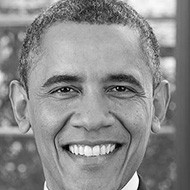 President Barack Obama
44th President of the United States
04/08/1961 -
Born in Honolulu, Hawaii, Obama graduated from Columbia University and Harvard Law School, where he served as president of the Harvard Law Review. He worked as a civil rights attorney and taught constitutional law at the University of Chicago Law School from 1992 to 2004 before serving three terms representing the 13th District in the Illinois Senate from 1997 to 2004, running unsuccessfully for the United States House of Representatives in 2000.
After a close primary campaign against Hillary Clinton in 2008, he won sufficient delegates in the Democratic Party primaries to receive the presidential nomination. He then defeated Republican nominee John McCain in the general election, and was inaugurated as president on January 20, 2009. Nine months after his election, Obama was named the 2009 Nobel Peace Prize laureate. Obama was re-elected president in November 2012, defeating Republican nominee Mitt Romney, and was sworn in for a second term on January 20, 2013.
Dreams from My Father: A Story of Race and Inheritance was published in July 1995 as he was preparing to launch his political career and covers the events of his life up until his entry into law school. The Audacity of Hope: Thoughts on Reclaiming the American Dream followed and covers many of the subjects that became part of his 2008 campaign for the presidency.
Similar authors to Barack Obama
We love...
Barack Obama's success in becoming President-Elect of the United States means he can change the face that his country presents to the world. In this book he discusses the importance of empathy in politics, his hopes for a different America with different policies, and how the ideals of its democracy can be renewed.
We're talking about...
Posted on 9th Oct, 2012
"The only Mandarin-speaking trained killer to rise to prominence in British politics", Lord Ashdown's introduction casts an intimidating shadow over the stage of Cheltenham Town Hall.