We use cookies to give you the best possible experience on our site. By continuing to use the site you agree to our use of cookies. Find out more.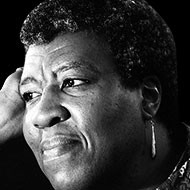 Octavia E. Butler
Hugo and Nebula award-winning author of Science Fiction.
22/06/1947 -
Octavia E. Butler biography and information
Californian-born Science Fiction writer Octavia E. Butler was drawn to reading the genre early in her life, through magazines like Amazing, Fantasy and Science Fiction, and Galaxy. Described as paralytically shy and a daydreamer, she began writing stories as a hobby whilst 10 years old.
Her Lilith's Brood series, originally titled theXenogenesis trilogy, take place in a world suffering in the aftermath of nuclear war or, 'humanicide'. The surviving humans are abducted by an alien race known as the Oankali who seek to trade genes with the humans to stave off evolutionary stagnation. Whilst telling a story set many years in the future, it evokes a similar narrative to slavery in the 18th century.
Butler has written many other works including Kindred, her most successful novel, theParable series and another novel, Fledgling.
Book & Writing Awards:
Hugo and Nebula Awards
Similar authors to Octavia E. Butler
Books by Octavia E. Butler
We're talking about...
Posted on 4th Apr, 2014 by Waterstones
Recorded at an event in London, Terry Pratchett, Ian Stewart and Jack Cohen discuss the fourth instalment of the Science of Discworld series.