We use cookies to give you the best possible experience on our site. By continuing to use the site you agree to our use of cookies. Find out more.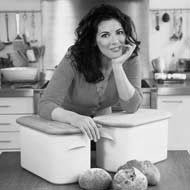 Nigella Lawson
Self-styled domestic goddess...
01/01/1960 -
Nigella Lawson biography and information
Nigella Lawson is an English food writer, journalist, TV host, and gourmet.



She began her journalism career writing book reviews, and later a restaurant column for

The Spectator.



She became the deputy literary editor of

The Sunday Times in 1986, but eventually left to become a freelance writer.



It would be another decade before she wrote her first cookery book, but when

How to Eat was published in 1998, it became a bestseller.


Nigella Bites

, Lawson's first cookery show aired on Channel 4 in 1999, making her a household name. She published her second book,

How to be a Domestic Goddess, in 2000, pushing her to the public status her book implies.



She is d

istinguished by her focus on cooking for pleasure and enjoyment rather than style -

and

her cooking instructions are often relaxed guidelines rather than set recipes.



She has sold more than 3 million cook books worldwide to date.
Book and writing awards
British Book Award - Author of the Year 2000 (How to be a Domestic Goddess). 2001 Guild of Food Writers - Television Broadcast of the Year (Nigella Bites). 2007 World Food Media Award - Gold Ladle Best Food And/Or Drink Television Show (Nigella's Christmas Kitchen).
Similar authors to Nigella Lawson
We're talking about...
Posted on 4th Jul, 2014 by Guest contributor
Sarah Vaughan, author of the novel The Art of Baking Blind, shares a chocolately family favourite and explains how the idea of a personal "signature bake" inspired her book.