We use cookies to give you the best possible experience on our site. By continuing to use the site you agree to our use of cookies. Find out more.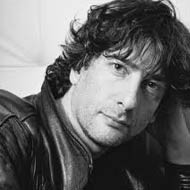 Neil Gaiman
English author of science fiction and fantasy short stories, novels, graphic novels, comics, and films...
10/11/1960 -
Neil Gaiman biography and information
As a child and a teenager, Gaiman grew up reading the works of C.S. Lewis, J.R.R. Tolkien, Michael Moorcock, Ursula K. Le Guin and G.K. Chesterton. He later became a fan of Science Fiction, reading the works of authors as diverse as Samuel R. Delany, Roger Zelazny, Harlan Ellison, H.P. Lovecraft, Thorne Smith, and Gene Wolfe.
In the early 1980s, Gaiman pursued journalism, conducting interviews and writing book reviews, as a means to learn about the world and to make connections that he hoped would later assist him in getting published. In 1984, he wrote his first book, a biography of the band Duran Duran, as well as Ghastly Beyond Belief, a book of quotations, with Kim Newman. Following on from that he wrote the opening of what would become his collaboration with Terry Pratchett on the comic novel Good Omens, about the impending apocalypse.
Neverwhere was Gaiman's first solo novel based on his script for the 1996 BBC miniseries. In 1999 the first printings of his fantasy novel Stardust were released.
His best-known work for children is the novel, Coraline, and he has also written children's picture books.
Book and writing awards
1997 Comic Book Legal Defense Fund Defender of Liberty award, 2001 Bram Stoker Award for Best Novel for American Gods, 2002 Nebula Award for Best Novel for American, 2003 Hugo Award for Best Novella for Coraline, 2009 Hugo Award for Best Novel for The Graveyard Book
Similar authors to Neil Gaiman
Diana Wynne Jones, Terry Pratchett, Terry Goodkind and Anne McCaffrey.
We're talking about...
Posted on 11th May, 2013
We took a sneak peak at Neil Gaiman's new children's book, Fortunately, the Milk... and got to ask Neil himself how a tale of one Dad's heroic mission to provide milk for his family ended up as something of a beginner's guide to theoretical physics. With dinosaurs...