We use cookies to give you the best possible experience on our site. By continuing to use the site you agree to our use of cookies. Find out more.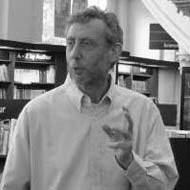 Michael Rosen
Former Children's Laureate (2007-09), and a hugely popular children's poet and author...
07/05/1946 -
Michael Rosen biography and information
Michael Rosen was born into a London Jewish family, the son of two distinguished educators - Connie and Harold Rosen. Michael's childhood was rich in books, stories and conversation; on one camping holiday, Harold Rosen memorably read his family the unabridged version of Little Dorrit. Michael's childhood ambitions were to be an actor (a desire fuelled by weekly visits to the Questors Theatre in Ealing) or a farmer. He has strong memories about the way he was taught poetry at school - "There was a ritual about it... almost semi-religious... some people were made to feel a failure because they couldn't learn it."
Michael attended Middlesex Hospital Medical School for a year but transferred to Wadham College, Oxford to study English Literature. At Oxford, he started to realise his ambition of acting (as well as writing and directing). Michael still says that if he wasn't a poet, he'd like to be an actor. Anyone who has seen him in performance knows that he already is!
Michael Rosen has been writing poetry since the age of 16. His first collection, Mind Your Own Business, was published in 1974. Although it was not planned as a collection for children, it appeared on Andre Deutsch's children's list. This, says Michael, was a turning point - "Suddenly it all fused: the writing, the performing, the popular audience. It was just incredibly exhilarating."
In 2007, Michael was appointed Children's Laureate, following in the distinguished footsteps of the likes of Quentin Blake and Jacqueline Wilson.
Book and writing awards
Children's Laureate (2007).
Similar authors to Michael Rosen
We're talking about...
Posted on 4th Jun, 2013
The author of the Noughts & Crosses series has been named as the successor to Julia Donaldson and the eighth Waterstones Children's Laureate.