We use cookies to give you the best possible experience on our site. By continuing to use the site you agree to our use of cookies. Find out more.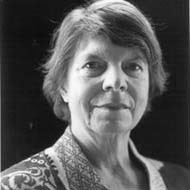 Margaret Drabble
Novelist, biographer and critic.
05/06/1939 -
Margaret Drabble biography and information
Margaret Drabble is a Sheffield-born author and sister of the novelist A.S. Byatt. The two famously feud--Drabble says she wrote about a family tea-set which Byatt had intended to use in her own writing. They seldom see each other and don't read each other's books.
Drabble was educated at the Mount School, a Quaker boarding school in York, and read English at Newnham College, Cambridge. She became an actress and worked for the Royal Shakespeare Company at Stratford-upon-Avon before her first novel, A Summer Bird Cage, the story of the relationship between two sisters, was published in 1963. She has written 18 novels since then, as well as a number of non-fiction texts and short story collections.
She is married to writer and biographer Sir Michael Holroyd. They live in Somerset.
Book and writing awards
Golden PEN Award for a Lifetime's Distinguished Service to Literature (2011). E. M. Forster Award from the American Academy of Arts and Letters (1973).
Similar authors to Margaret Drabble
Books by Margaret Drabble
We're talking about...
Posted on 19th Jun, 2014 by Margaret Drabble
Read the opening chapter of our Book Club book of the week - Margaret Drabble's The Pure Gold Baby.