We use cookies to give you the best possible experience on our site. By continuing to use the site you agree to our use of cookies. Find out more.
We regret that due to the technical limitations of our site, we are unable to offer eBooks or Audio Downloads to customers outside of the UK.
For further details please read our eBooks help.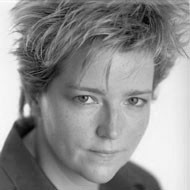 Karin Slaughter
The creator of the Grant County series of crime novels...
06/01/1971 -
Karin Slaughter biography and information
Georgia native Karin Slaughter's first thriller Blindsighted netted its young author a much publicized "six-figure"contract and, when published in 2001, drew plausible comparisons to Thomas B. Harris and Patricia Cornwell. Blindsighted and its sequels, Kisscut (2002) and A Faint Cold Fear (2003) are all set in the small southern town of Heartsdale in Grant County.
Slaughter's books track the lives of three principal characters: Sara Linton bookends the lives of Heartsdale residents by doubling as pediatrician and medical examiner. She's in a ricochet relationship with ex-husband Jeffrey Tolliver, the local chief of police. Backing up Tolliver is Slaughter's darkest and most intriguing character, Lena Adams, a young cop who sustained a devastating personal loss, and who underwent a horrible attack in Blindsighted. Slaughter's ensuing novels have unflinchingly tracked Lena's uncertain road to recovery or eventual self-extermination.
Similar authors to Karin Slaughter
We're talking about...
Posted on 30th Mar, 2014 by Emma Kavanagh
Former police psychologist Emma Kavanagh looks for the probable cause of her new career as a writer of crime fiction...