We use cookies to give you the best possible experience on our site. By continuing to use the site you agree to our use of cookies. Find out more.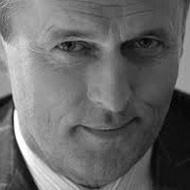 John Grisham
Master of the legal thriller...
08/02/1955 -
John Grisham biography and information
John Grisham's first novel, A Time to Kill, was published in 1987. The author spent three years finding time to squeeze the writing around his day job working at a small law practice in Mississippi.



On the day after he finished

A Time to Kill

Grisham began writing his second novel,

The Firm, about a young attorney "lured to an apparently perfect law firm that was not what it appeared." His second book was a huge success selling 1.5 million copies, being adapted to film in 1993 starring Tom Cruise and Gene Hackman.


As of 2012, his books had sold over 275 million copies worldwide. A Galaxy British Book Awards winner, Grisham is one of only three authors to sell 2 million copies on a first printing, the others being Tom Clancy and J.K. Rowling.
Similar authors to John Grisham
Michael Crichton, Patricia Cornwell, James Patterson and Tom Clancy.