We use cookies to give you the best possible experience on our site. By continuing to use the site you agree to our use of cookies. Find out more.
We regret that due to the technical limitations of our site, we are unable to offer eBooks or Audio Downloads to customers outside of the UK.
For further details please read our eBooks help.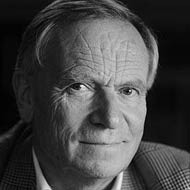 Jeffrey Archer
Bestselling novelist, disgraced former Conservative Party chairman, and prison diarist.
15/04/1940 -
Jeffrey Archer's hugely successful writing career began after a five-year spell as an MP which was ended by a financial scandal, leaving him nearly bankrupt.
His continued popularity as an author led to financial stability, particularly with Kane and Abel reaching number one in The New York Times bestseller list.
This allowed him to return to politics as deputy chairman of the Conservative Party in 1985, despite Margaret Thatcher being warned that Archer was ''an accident waiting to happen''.
A prostitution scandal in 1986 forced him to resign from political life once again, but Archer sued the Daily Star, won the case, and was paid damages of £500,000.
Archer's career went from strength to strength, eventually being chosen as the Conservative candidate for the Mayor of London, but new evidence from the prostitution legal case surfaced which eventually proved that he committed perjury during the original trial.
He was sentenced to four years in prison, but served only two of them. He published three volumes of bestselling diaries based on his prison experiences, beginning with Belmarsh.
The perjury case destroyed his career in politics, but he continues to write popular novels - he's sold over 250 million copies worldwide. His latest series is the Clifton Chronicles, a seven-part saga beginning with Only Time Will Tell.
Similar authors to Jeffrey Archer
Ken Follett and Michael Dobbs.
We're talking about...
Posted on 28th Mar, 2014 by Guest contributor
Parliament has always had its fair share of corrupt members says Chris Bryant MP, and in many ways, you've never had it so good...