We use cookies to give you the best possible experience on our site. By continuing to use the site you agree to our use of cookies. Find out more.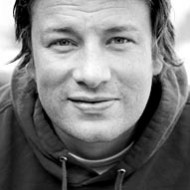 Jamie Oliver
Essex-born cookery writer, chef and restaurateur.
27/05/1975 -
Jamie Oliver biography and information
Jamie grew up surrounded by good food: his parents ran the Cricketers pub in Clavering, Essex and, from the age of eight, he started cooking and helping the chefs.
His apprenticeship to restaurant cooking came under some of the best chefs in London. He first worked for Antonio Carluccio and Gennaro Contaldo at the Neal Street Restaurant and then moved on to the River Cafe under Rose Gray and Ruth Rogers.
The Italian influence on his cooking is strong, with its use of herbs and simple, full-flavoured recipes.
The first series that featured Jamie's cooking was

The Naked Chef

. It was an overnight success, attracting the kind of audience that wouldn't normally watch food programmes.
The book that accompanied the series,

The Naked Chef

, became a bestseller and the young chef, always fully clothed, was catapulted into the limelight.
Similar authors to Jamie Oliver
Nigel Slater, Rose Gray and Ruth Rogers and Gennaro Contaldo.
We're talking about...
Posted on 14th Dec, 2013 by Dan Lewis Lewis
The diet starts in the New Year, so for now we wanted to share some flavours from our favourite cookbooks...