We use cookies to give you the best possible experience on our site. By continuing to use the site you agree to our use of cookies. Find out more.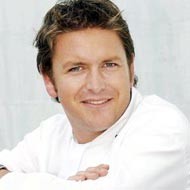 James Martin
TV chef and cookery writer...
30/06/1972 -
James Martin biography and information
Martin was born into the chef's life - his father ran the catering side of Castle Howard in Yorkshire and, when he was just twelve, James could boast that he'd cooked for the Queen Mother on her visit there.
At sixteen he went to Scarborough where he began his formal training. While there, for three years running he was student of the year. His work was noticed by Antony Worrall Thompson who brought James to London to work, first at 190 Queensgate and then at dell'Ugo. James then travelled through France working in the kitchens of French chateaux alongside the matriarchs of grand old families. Moving back to England, he worked at Chewton Glen in Hampshire for two years, and then opened the Hotel and Bistro du Vin in Winchester where, as Head Chef, he changed the menu every day. Such was the success of the venture, that there was an eight-week waiting list for a table.
James's television career began in 1996 on Ready, Steady, Cook, and he has appeared in numerous programmes and series since then, including presenting the popular BBC cookery show, Saturday Kitchen, which he continues to host.
Similar authors to James Martin
Jamie Oliver, Nigella Lawson, Nigel Slater, The Hairy Bikers and Delia Smith