We use cookies to give you the best possible experience on our site. By continuing to use the site you agree to our use of cookies. Find out more.
We regret that due to the technical limitations of our site, we are unable to offer eBooks or Audio Downloads to customers outside of the UK.
For further details please read our eBooks help.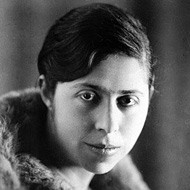 Irene Nemirovsky
11/02/1903 - 01/01/1942
Irène Némirovsky was the daughter of a Jewish banker from Ukraine, Léon Némirovsky. The Némirovskys lived in Saint Petersburg, Russia, where she was brought up by a French gouvernante, almost making French her native tongue. Irène also spoke Yiddish, Basque, Finnish, Polish, and English (probably learned while strolling the Rue des Rosiers in Paris, according to an interview)
The Némirovsky family lived for a year in Finland in 1918 following the Russian Revolution, and then, in 1919, moved to Paris, France, where Irène attended the Sorbonne and started writing when she was only 18 years old. In 1926, Irène Némirovsky married Michel Epstein, a banker, and had two daughters: Denise, born in 1929; and Élisabeth, in 1937. In 1929 she published David Golder, the story of a Jewish banker unable to please his troubled daughter, which was an immediate success, and was adapted to the big screen by Julien Duvivier in 1930, with Harry Baur as David Golder. In 1930 her novel Le Bal, the story of a mistreated daughter and the revenge of a teenager, became a play and a movie.
On July 13, 1942, Irène Némirovsky (then 39) was arrested as a "stateless person of Jewish descent" by French police under the regulations of the German occupation. As she was being taken away, she told her daughters, "I am going on a journey now." She was brought to a convoy assembly camp at Pithiviers and on July 17 together with 928 other Jewish deportees transported to Auschwitz. Upon her arrival there two days later, her forearm was marked with an identification number. According to official papers, she died a month later of typhus.
Her husband was sent to Auschwitz shortly thereafter, and was immediately put to death in a gas chamber.
Némirovsky is now best known as the author of the unfinished Suite Française, two novellas portraying life in France between June 4, 1940 and July 1, 1941, the period during which the Nazis occupied Paris. These works are considered remarkable because they were written during the actual period itself, and yet are the product of considered reflection, rather than just a journal of events, as might be expected considering the personal turmoil experienced by the author at the time.
Similar authors to Irène Némirovsky
We're talking about...
Posted on 24th Feb, 2014 by Guest contributor
Laura Clouting - of the Imperial War Museum London - explains how a chance discovery uncovered a distinctive and insightful new perspective on World War One...