Bernard Cornwell
From the strife and division of the Dark Ages to the blood and bravery of the Napoleonic Wars, Bernard Cornwell's has been bringing history to life since the early Eighties when he created the unlikely hero renegade-turned-officer Richard Sharpe. Whether turning his hand to the hunt for the Grail quest, Arthurian legend or feuding Saxons in his Last Kingdom series, his novels are consistently popular, making him one of Britain's best-loved and bestselling novelists.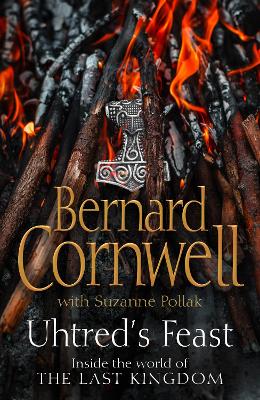 Hardback
Usually dispatched within 2-3 working days
This audacious mix of historical short stories and Anglo-Saxon-inspired recipes returns readers to the world of Cornwell's bestselling The Last Kingdom series with noted chef Suzanne Pollak adding the evocative flourish of delicious themed dishes.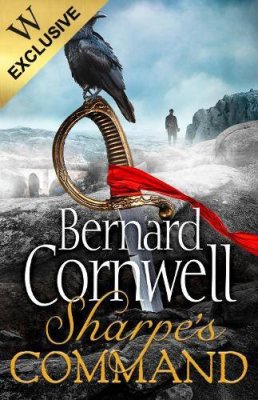 Hardback
Usually dispatched within 2-3 working days
The master of historical military fiction delivers another unputdownable entry in the mega-selling Sharpe series as Britannia puts her faith in our maverick hero to defend her troops from French forces in early nineteenth-century Spain.
See More
The Sharpe Series
Soldier, leader, scoundrel, lover, Richard Sharpe is a hero with a colourful past, discover the complete series here.
The Last Kingdom Series
Formerly known as The Warrior Chronicles and Saxon Stories.
Britain at war, as seen through the eyes of a man with loyalties to both sides, Vikings and Saxons clash over the future of a nation in this explosive series.
---
The Starbucks Chronicles
Confederate Loyalties
Often called America's Sharpe, Nathanial Starbuck is a Confederate Officer who finds himself at the heart of the fiercest conflicts of the American Civil War.
---
The Grail Quest Novels
Blood and Devotion
Personal legacy and international intrigue collide in these novels about one man's involvement in the search for the Holy Grail.
---
The Arthur Series
A legend brought to life. Also called The Warlord Series, this is Cornwell's take on events that may, or may not have happened and weave them into known history.
---
Writing With Susannah Kells
---
Non-Fiction Writing
From fiction to reality, the true face of Waterloo
---
CD Audiobooks
Some of Cornwell's most famous novels, brought to life in complete, unabridged form read by Tim Piggott Smith, Jonathan Keeble and others.
---
Biography
For an author who first conceived of writing because he thought he'd like to read 'Hornblower on dry land', Bernard Cornwell's literary career has been extraordinarily diverse and varied. In fact, were it not for a chance meeting with his future second wife in a lift in Belfast, he might never have begun at all.
Born in 1944 Cornwell first attempted to join the armed forces (failing due to myopia) before striking out first as a teacher and then as a successful journalist until love and marriage took him to the USA where, unable to get a green card, he decided to try his hand at writing a novel.
An Officer, a Gentleman and a Rogue
Having decided on his subject matter Cornwell wrote Sharpe's Eagle and brought into being the eponymous star of what would become his most popular series.
A brave soldier, a cunning tactician, an inveterate charmer and a lovable reprobate, Sharpe endures as one of fiction's most popular heroes, cemented by the popular television adaptations aired in the 1990's. His adventures, which run to twenty-one novels so far, cover military service in India through to European campaigns across the period of the Napoleonic Wars in true swashbuckling style.
The Lords of the North, the Captains of the South
In the Eighties Cornwell wrote a series of modern thrillers beginning with Wildtrack but soon plunged back into history, writing a variety of other novels in-between continuing Sharpe's adventures, including dipping into French history for Azincourt and the American Civil War for his Starbuck Chronicles.
Amongst his most popular novels are the Warlord chronicles, a blending of fact and Arthurian legend that began with The Winter King, as well as the Harlequin trilogy which follows an English archer's exacting, personal quest for the Holy Grail.
More recently Cornwell has been focusing on his immensely popular The Last Kingdom series. Originating in the Anglo-Saxon kingdom of Wessex, set ablaze by warring factions, the novels chronicle the struggle to unit England as one nation amidst fierce in-fighting and opposition.
Untold History
Now in his seventies, Cornwell admits to having slowed down a little, albeit that, for him, that still means producing a book a year. With so many series on the go, he has novels aplenty still on the drawing board, with plans for follow-ups to many of his existing series as well as new stand-alone fiction.
He still works to the same abiding principles he has always used when writing fiction: 'You write for yourself first. You write what you want to read'.
Recommended Further Reading
Cornwell himself was much-influenced by the writer C. S. Forester, in particular his Hornblower novels, when he first came up with the idea for Sharpe and his novels are still a benchmark for good historical adventure writing. Cornwell himself also recommends the novels of Christian Cameron (gripping novels of epic warfare set in Ancient Greece) and Julian Stockwin, whose Thomas Kydd naval novels are roughly in parallel with the Sharpe series. Cornwell also nominated Giles Kristian's Viking novel Winter's Fire as in contention for his book of the year for 2016.
×
Download the Waterstones App
Would you like to proceed to the App store to download the Waterstones App?
Reserve online, pay on collection


Thank you for your reservation
Your order is now being processed and we have sent a confirmation email to you at
When will my order be ready to collect?
Following the initial email, you will be contacted by the shop to confirm that your item is available for collection.
Call us on or send us an email at
Unfortunately there has been a problem with your order
Please try again or alternatively you can contact your chosen shop on or send us an email at