We use cookies to give you the best possible experience on our site. By continuing to use the site you agree to our use of cookies. Find out more.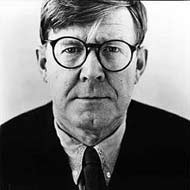 Alan Bennett
Yorkshire playwright, diarist and raconteur who openly detests his oft-applied sobriquet of "national treasure".
09/05/1934 -
Alan Bennett biography and information
Born in 1934, the son of a Leeds butcher, Alan Bennett gained a scholarship to Oxford and prepared himself for a career as a medieval historian.
Bennett soon discovered that he had thespian tendencies and became increasingly active in local stage productions and revues.
Bennett achieved fame and notoriety in 1960 when he appeared in Beyond the Fringe with Peter Cook, Dudley Moore and Jonathan Miller.
Throughout the 1960s Bennett continued to write for (and occasionally appear in) satirical sketch-based shows, but his real passion was drama and during the 1970s he made a name for himself as a playwright.
Bennett's wistful, melancholy style and fine ear for the nuances of Northern, working-class speech have transformed him from an enfant terrible into a national treasure (a sobriquet he detests) and when he published his diaries Writing Home in the mid-nineties, it topped the bestseller lists.
He followed up with Untold Stories in 2005, which proved equally popular, and in autumn 2006, a successful adaptation of his play, The History Boys, was released as a film.
Bennett's work adapts exceptionally well to audio and he is perhaps the single most successful British writer and performer in that format.
Book and writing awards
Hawthornden Prize 1989 (Talking Heads), British Book Award, Book of the Year 1995 (Writing Home), J. R. Ackerley Prize for Autobiography 2006 (Untold Stories), Bodley Medal 2008.
Similar authors to Alan Bennett
Stephen Fry and Sue Townsend.