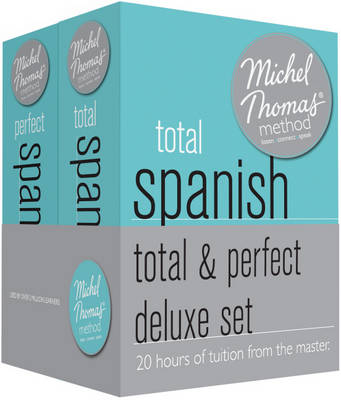 Michel Thomas Method Total & Perfect Deluxe Set: Spanish (CD-Audio)
Michel Thomas
CD-Audio
Published: 28/10/2011
"A unique and perfectly brilliant way of learning languages." Stephen Fry in Rescuing the Spectacled Bear Speak Spanish - instantly. The Total & Perfect Spanish Deluxe Set: includes over 20 hours of audio learning with the acclaimed Michel Thomas method! - No books. - No homework. - No memorizing. Go from beginner to advanced Spanish speaker with the two-in-one Total & Perfect Spanish Deluxe Set. - Guaranteed success. Speak and understand perfectly. - Incredible progress. Get what you want, fast. - Absolute confidence. Unleash your natural learning style without trying What's in this Deluxe pack? Total Spanish with the Michel Thomas Method - Up to 12 hours of audio on CD - Visual learning review for PC or Mac - Over 2 hours of vocab help - Interactive exercises Perfect Spanish with the Michel Thomas Method - Up to 9 hours of audio on CD - Visual learning review for PC and Mac - Over 3 hours of vocab help - Interactive exercises The Michel Thomas Method: An easy, stress-free audio learning experience Michel Thomas teaches you through your own language, so there's no stress, and no anxiety. He builds it up, step by step, and you don't move on until you've absorbed and understood the previous point. And, as Michel Thomas said, 'What you don't understand, you know; and what you know, you don't forget.' With parallels to the way you learned your own language, each language is learned in 'real-time' conditions. There is no need to stop for homework, additional exercises or vocabulary memorization. A 'virtual' classroom The classroom situation on the recording lets you learn with others. You enjoy their success, and you learn from their mistakes. The students on the recordings are not reading from scripts and they have received no additional instruction or preparation - just the guidance you hear on the recording. You, as the learner, become the third student and participate actively in the class. There's no such thing as a poor student, only a poor teacher This is an important part of the Michel Thomas Method. Full responsibility for your learning lies with the teacher, not with you, the pupil. This helps to ensure that you can relax and feel confident, allowing you to learn effectively. Why it works: Learn another language the way you learned your own You learned your own language naturally and enjoyably: now you can learn Spanish in the same way. You'll stick with it because you'll love it. Use the unique method perfected over fifty years by the celebrated psychologist and linguist Michel Thomas. This method works with your brain, helping you to build up your Spanish in manageable, enjoyable steps by thinking out the answers for yourself. You learn through listening and speaking without the pressure of writing or memorizing. You pick up the language naturally and unforgettably. Join the millions of people worldwide who have learned a new language with the Michel Thomas Method. Learn Anywhere Don't be tied to chunky books or your computer, Michel Thomas Method audio courses let you learn whenever you want: at home, in your car, or on the move with your MP3 player. How does it work? - Listen: collect words effortlessly by listening - Connect: create your own mental tool kit by understanding how words fit together - Speak: put the words back together to build sentences, naturally Michel Thomas - The man behind the method Michel Thomas was a gifted linguist who mastered more than ten languages in his life-time and became famous for teaching much of Hollywood's "A" list how to speak a foreign language. Film stars such as Mel Gibson, Woody Allen, Emma Thompson and Barbara Streisand paid up to GBP18,000 each for face-to-face lessons. He even taught Doris Day Spanish to enable her to sing the hit song, Que Sera Sera, with confidence! Michel Thomas' remarkable life experiences fuelled his passion for teaching languages. Michel Thomas was born Moniek Kroskof, the only son of a Jewish family who owned a textile factory in Poland in 1914. As a young boy, Michel was sent to live in Germany to escape the anti-Semitism directed at his family. Living in Vienna in 1938, when the Nazis annexed Austria, Michel was rendered stateless as a Jew. He fled the country for France, and when the Germans invaded he joined the French Resistance. He spent two brutal years in French concentration and slave labour camps, narrowly avoiding being sent to Auschwitz. He escaped, surviving capture, interrogation by Klaus Barbie and torture by the Gestapo. His mastery of languages enabled him to adopt many identities. At the end of the war, he masterminded operations to uncover war criminals and infiltrate underground Nazi groups. In 1944, Michel was nominated for the Silver Star medal for his service to the US Army's 45th Infantry Division in France. The award was finally presented to him in May 2004, sixty years later. It was during Michel's wartime experiences, particularly his torture by the Gestapo, that he discovered his ability to block out pain and unearthed the untapped potential of the human mind. The only way he survived his wartime experiences, particularly his capture by the Gestapo, was by concentrating and placing his mind beyond the physical. He said, "I concentrated so hard, that I stopped feeling pain. I was amazed at myself." Fascinated by this experience, he was determined that after the war, he would devote himself to exploring this further and dedicated his life to education. "I contemplated the untapped reserves of the human mind. The great hidden depths of the brain. I learned from it" In 1947, he moved to Los Angeles and set up the Michel Thomas Language Centers and taught languages for over fifty years in New York, Beverly Hills and London. Michel Thomas died of heart failure at his home in New York City on Saturday 8th January 2005. He was 90 years old. Michel remains the world's greatest language teacher and an inspiration and mentor to learners everywhere.
Publisher: Hodder Education
ISBN: 9781444170535
You may also be interested in...
We would love to hear what you think of Waterstones. Why not review Waterstones on Trustpilot?